---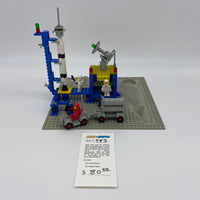 483 Alpha-1 Rocket Base is a Classic Space set released in 1979. The set contains a rocket base with launch tower and control centre, a moon buggy with trailer, a rocket and three Classic Space astronauts (one red, two white).
The base is built onto a crater baseplate and consists of a control room and a collapsible launch tower. The control centre contains several computer monitors and has a rotatable dish antenna on its roof.
The rocket has a small satellite/spaceprobe mounted on its tip. The trailer has several tanks on its back.
*** DOES NOT INCLUDES INSTRUCTIONS ***
Disclaimer: Used sets may be missing parts, be partial sets, or have color swapped pieces.  They include all pieces/minifigures as pictured.  Please ask if you have any concerns about a set before purchasing. They are sold AS-IS and can't be returned or exchanged.
Shipping: Used sets are shipped assembled. Some minor disassembly may be required for packing.  Each set will be packed as carefully as possible, but it is virtually guaranteed that additional disassembly will occur during shipping.