---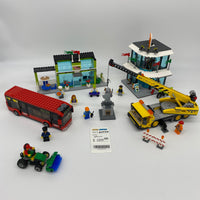 Used set - includes minifigs as pictured
Instructions may be included if we have them. Otherwise instructions can be downloaded from LEGO.com. Please check with the store if you need to make sure that paper instructions are included before ordering.
Disclaimer: Used sets may be missing parts, be partial sets, or have color swapped pieces.  We are not aware of anything missing from this set, but haven't disassembled it to count every single piece and cannot guarantee that it is 100% complete. Everything pictured is included.  Please ask if you have any concerns about a set before purchasing. Used sets are sold AS-IS and can't be returned or exchanged once they leave the store.
Shipping: Used sets are shipped assembled. Some minor disassembly may be required for packing.  Each set will be packed as carefully as possible, but it is virtually guaranteed that additional disassembly will occur during shipping.