---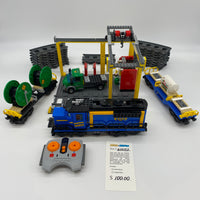 Move heavy goods around the city with the super-powerful LEGO® City Cargo Train! This awesome motorized train with 4-channel, 7-speed, infrared remote control can transport almost anything. So it's your job to make sure the cargo is in the right place at the right time to keep the city running smoothly. Attach the 2 cargo wagons together and pull them around the circular rail track with the locomotive. Keep track of all the cargo leaving and arriving in the office at the impressive cargo train station. There you can use the sliding overhead crane with hook to move heavy cargo between vehicles or onto the ground. With so many play functions and cool features, this really is the ultimate set for train enthusiasts!
Build your Cargo Train, featuring a crane with hook to load and unload heavy cargo, multiple cars and full circular train track!
LEGO City toys are compatible with all LEGO construction sets for creative building
Locomotive measures 3" high, 11" long and 2" wide.  Fuel wagon is 3" high, 9" long and 2" wide
Cable drum wagon measure 3" high, 8" long and 2" wide. Truck measures 2" high, 5" long and 2" wide. 
*** NOTE: THIS IS A PARTIAL SET - IT IS FULLY FUNCTIONAL ***
*** DOES NOT INCLUDES INSTRUCTIONS ***
*** INSTRUCTIONS CAN BE DOWNLOADED FROM LEGO.COM ***
Disclaimer: Used sets may be missing parts, be partial sets, or have color swapped pieces.  They include all pieces/minifigures as pictured.  Please ask if you have any concerns about a set before purchasing. They are sold AS-IS and can't be returned or exchanged.
Shipping: Used sets are shipped assembled. Some minor disassembly may be required for packing.  Each set will be packed as carefully as possible, but it is virtually guaranteed that additional disassembly will occur during shipping.