---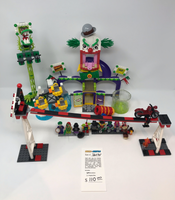 The Joker and his team of villains have transformed Gotham City's amusement park into the nightmarish Jokerland and trapped Starfire, Beast Boy and Robin. Drive to the rescue with Batman™ in the awesome Batmobile. Dodge the cannon and target the clown robot with the shooting missiles. Then it's time for some serious super-jumping action to bring down the villains. Bam! Topple The Penguin from his podium. Wham! Launch a perfectly aimed jump to release Robin from his upside-down bike ride with Harley Quinn. Pow! Take down Poison Ivy from her swinging branch. Finally, knock The Joker from the clown's mouth down the slide and into the poison pool chamber! Includes 8 minifigures with assorted accessories: Batman™, Robin, Beast Boy, Starfire, The Penguin, The Joker, Poison Ivy and Harley Quinn.
Includes 8 minifigures with assorted accessories: Batman™, Robin, Beast Boy, Starfire, The Penguin, The Joker, Poison Ivy and Harley Quinn
The Joker ride features a clown face with tilting hat, rolling eyes, mouth with podium for The Joker, slide, poison pool chamber and a mirror house
Poison Ivy ride features 3 seats, man-eating plant with snapping jaws, and handcuffs
Harley Quinn ride with bike, attachment underneath for captured passenger, handcuffs, Super-Jumper-activated bike launchfunction and translucent flame elements
The Penguin ride features rear-wheel-operated rotating duck seats, The Penguin's podium with Super-Jumper-activated-toppling function, penguin, handcuffs, 3 dynamite sticks and transparent ice elements
Also includes a clown robot with a firing cannon, 3 cannonballs and a dynamite stick
Batmobile features an opening cockpit, 2 spring-loaded missiles, 2 rear stud shooters, giant batwings and Batman™ emblem logo
Accessories include Batman's cape and Super Jumper, Robin's cape, The Penguin's umbrella, The Joker's pie and Poison Ivy's swinging branch
Evade cannonballs fired by the clown robot
Avoid the man-eating plant's snapping jaws!
Fire the Batmobile's missiles and stud shooters
Activate Batman's Super Jumper to knock The Penguin off his perch!
Super-jump to launch Harley Quinn's bike and rescue Robin
Knock The Joker down the slide and into his poison pool chamber!
The Joker ride measures 11" (29cm) high, 9" (23cm) wide and 3" (9cm) deep
Poison Ivy ride measures 12" (31cm) high, 4" (11cm) wide and 2" (7cm) deep
Harley Quinn's ride measures 10" (27cm) high, 16" (42cm) wide and 1" (5cm) deep
The Penguin ride measures 5" (15 cm) high, 4" (12cm wide) and 2" (7 cm) deep
Batmobile measures over 2" (7cm) high, 9" (24cm) long and 2" (7cm) wide
Cannon measures over 2" (6cm) high, 3" (8cm) long and 2" (6cm) wide
*** INCLUDES INSTRUCTIONS ***
Disclaimer: Used sets may be missing parts, be partial sets, or have color swapped pieces.  They include all pieces/minifigures as pictured.  Please ask if you have any concerns about a set before purchasing. They are sold AS-IS and can't be returned or exchanged.
Shipping: Used sets are shipped assembled. Some minor disassembly may be required for packing.  Each set will be packed as carefully as possible, but it is virtually guaranteed that additional disassembly will occur during shipping.