---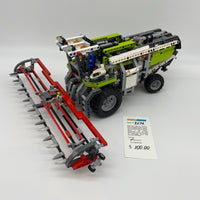 Take this authentic Combine Harvester for a spin and watch the whirl of the wheel-driven rotor! Rear-axle steering ensures precise maneuvering around the field. When the job is finished, detach the header, put it on the trailer and bring home the harvest.

* Harvester measures 17" (43 cm) long! * Rotating cylinder measures 16" (41 cm) wide! * Harvester has a detachable, wheel driven cutting bar! * Raise, lower and spin the cutting bar! * Harvester has a moveable thrashing bar! * Includes instructions to rebuild into a Dragster!
*** INCLUDES INSTRUCTIONS ***
Disclaimer: Used sets may be missing parts, be partial sets, or have color swapped pieces.  They include all pieces/minifigures as pictured.  Please ask if you have any concerns about a set before purchasing. They are sold AS-IS and can't be returned or exchanged.
Shipping: Used sets are shipped assembled. Some minor disassembly may be required for packing.  Each set will be packed as carefully as possible, but it is virtually guaranteed that additional disassembly will occur during shipping.